It is important to choose the proper print size for the place where you want to display it. The farther viewers will stand from the picture, the larger it should be. A common rule of thumb: viewing distance = twice the diagonal measurement of the print. For instance, if the photo is displayed in a narrow hallway, you should not choose a very large format cause the viewers can only step back so far as the small hallway allows them to, so it could make more sense to choose multiple smaller prints. For prints displayed above the sofa, however, you should not choose too small of a size, since you will most likely view the photo at a distance, so in this case the print can be 60 cm or more.
| Formats | Viewing distance (suggestion) |
| --- | --- |
| 20 x 30 cm | not closer than 0.7 m |
| 30 x 45 cm | not closer than 1.1 m |
| 40 x 60 cm | not closer than 1.4 m |
| 50 x 75 cm | not closer than 2.2 m |
| 70 x 105 cm | not closer than 3.0 m |
All Il était un Pixel photos are printed on premium gallery-grade Hahnemühle Fine Art Baryta or Photo Rag Baryta 315gsm, which is artist papers made of 100% cotton or pure alpha cellulose are provided with a Premium coating. And using high-quality Fine Art printers from Epson, with K3 ink for stunning results: outstanding reproduction of colour and detail, rich blacks, ultra-smooth tonal gradation.
All prints are acid- and lignin-free and conform to ISO 9706 museum quality standard for the highest age resistance.

If you order the print and framing, the photo will come with a 2 mm acid-free Passe-Partout mat of the print, UV-shielding Museum-grade glass (also called Mirogard Museumglass), protecting the print for extended conservation, reducing glare and without any color-distorsion, and a beautiful gallery wooden frame (available natural, clear wood or in black or white).
Frames: exact sizes
The frames are 3 cm deep and 2 cm wide, and the exact size of each frame is here: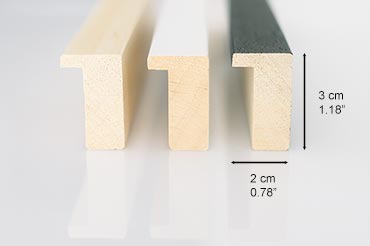 | Photo | Mat | White border | Frame (outside dimensions) |
| --- | --- | --- | --- |
| 20 x 30 cm | 5 cm wide | None or 0.5 cm | 33.5 x 43.5 cm (approx.) |
| 30 x 45 cm | 5 cm wide | 1 cm | 45.5 x 60.5 cm (approx.) |
| 40 x 60 cm | 7.5 cm wide | 1 cm | 60.5 x 80.5 cm (approx.) |
| 50 x 75 cm | 5 cm wide | 1 cm | 66 x 91 cm (approx.) |
| 70 x 105 cm | 5 cm wide | None | 84 x 119 cm (approx.) |
Frames: types of wood
You can choose from three types/colors: Natural Maple (clear), Black Oak and White Maple.
Secure Shipping: Maximum Protection, art-secure packaging
All Fine Art Prints are shipped from the EU, either from France or Germany depending on the size chosen. We take the utmost precaution to handle, secure and pack our Artwork in order for it to arrive pristine and ready to hang.
All taxes and fees are included when ordering in EU on the website. Should any taxes or excise duties be incurred in case of delivery to a country outside the EU, all such costs shall be borne by the customer.
Delivery time
For domestic EU orders, the delivery time is usually 9 work days, but can be faster. 24-hours rush delivery available for 20x30 cm prints. Outside EU, approx 2 weeks.
Dependable delivery